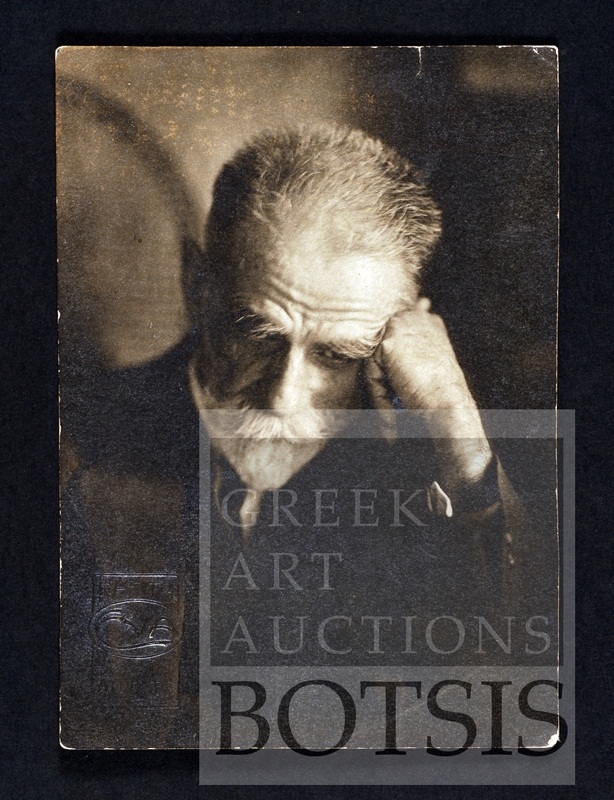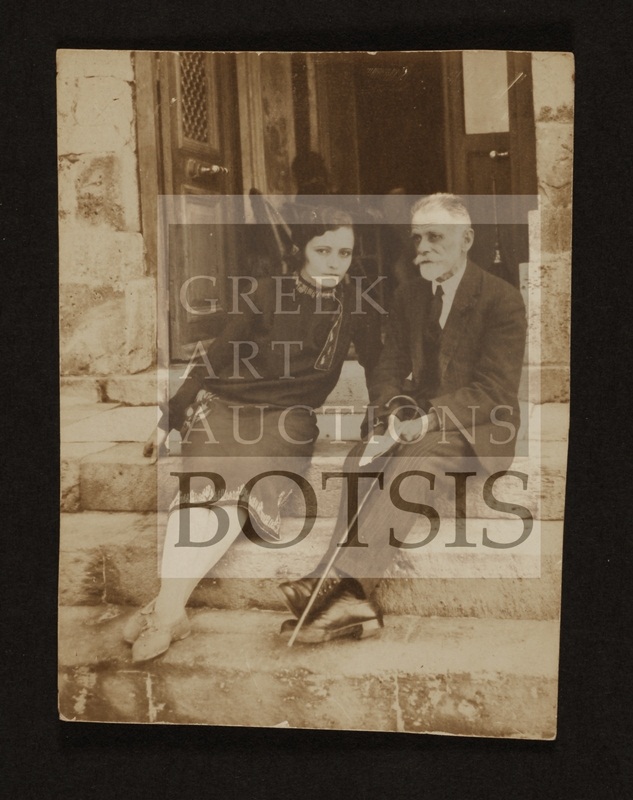 Kostis Palamas [1859-1943] was a Greek poet, novelist, historian, playwright and literary critic. He was member of the Academy of Athens and 14 times nominee for the Nobel prize in literature. In addition, he wrote the lyrics of the Hymn of the Olympic Games. He was universally known, and particularly known throughout the Greek expatriates. His poems and his literature have been taught to the Greeks around the world through in school textbooks. The poet's grandfather, Ioannis Palamas, had taught at the Patriarchal Academy in Constantinople. This collection of manuscripts is not merely of Greece's emotional interest, but of all Greeks all over the world; Kostis Palamas was a scholar of international magnitude.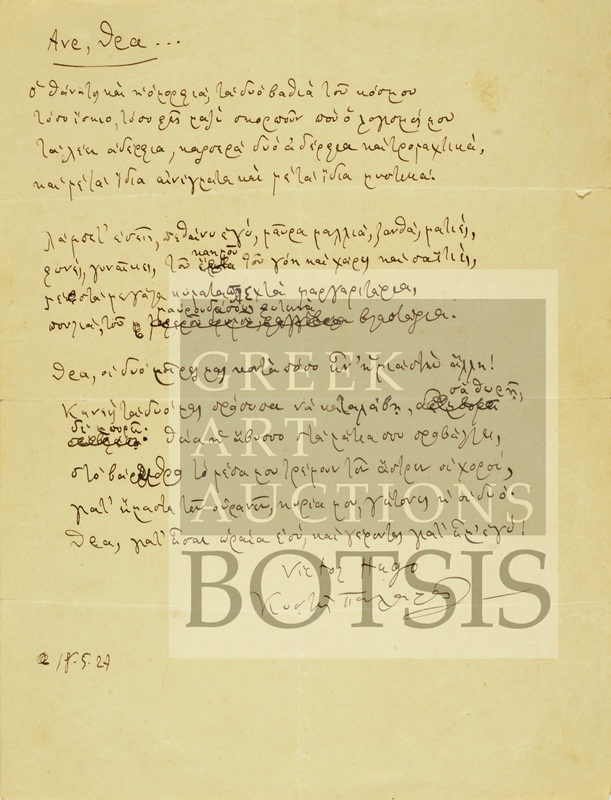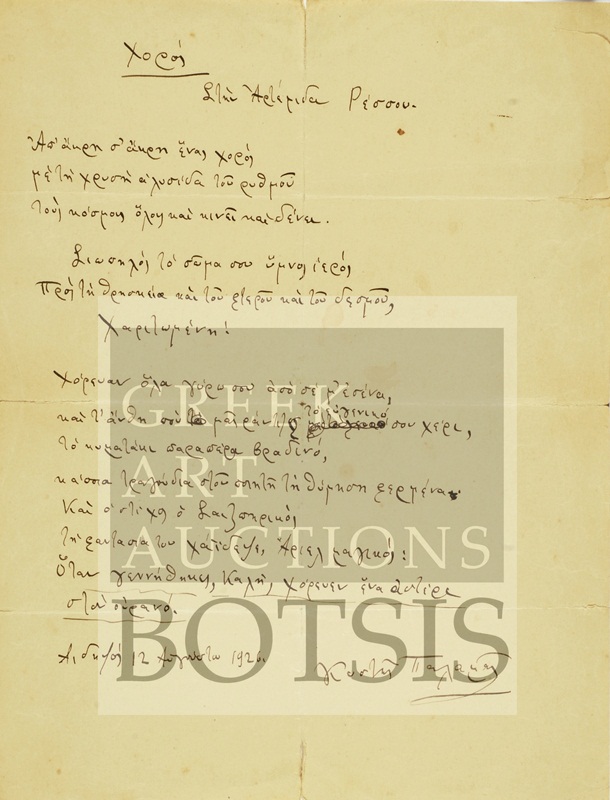 The unique archive of Palamas' manuscripts consists of:
[1] 33 manuscripts-poems
[2] 38 manuscripts-letters
[3] 7 photos with the poet
[4] 1 photographic sketch by Kostas Maleas with a dedication for the poet. On the cloth of the frame (back side) there is a handwritten poem by Palamas.
[5] 1 watercolor (aquarelle) by A. L. Chaplin depicting Artemis Ressou [Kostis Palamas' lover]
[6] Professor Fotis Dimitrakopoulos' thesis which, in most of its extent, has recorded and documented all of the above collection-file. Bibliography: Dimitrakopoulos , Fotis (1995). "Unknown Letters and Poems by Kostis Palamas ." Scientific Annals of the School of Philosophy of the University of Athens, Volume XXX (1992-1995), pp: 181-205. Athens.
Artemis Ressou was Kostis Palamas' lover; many details appear on the thesis of Dr. F. Dimitrakopoulos.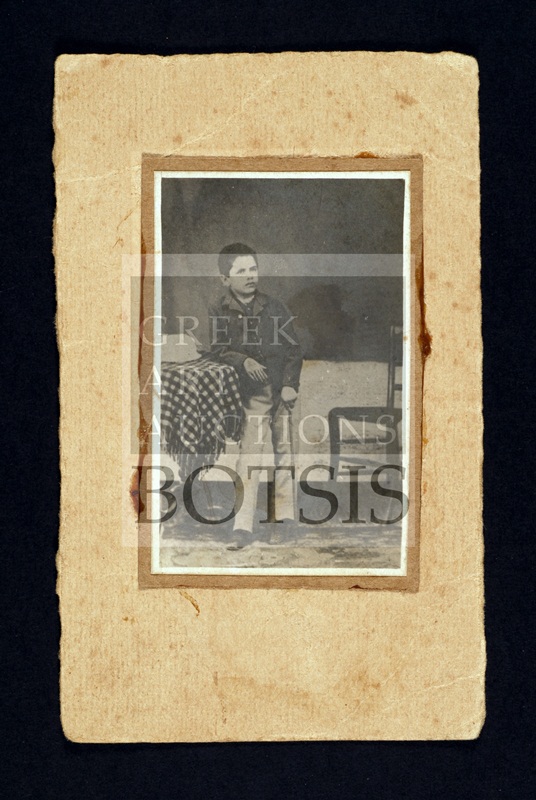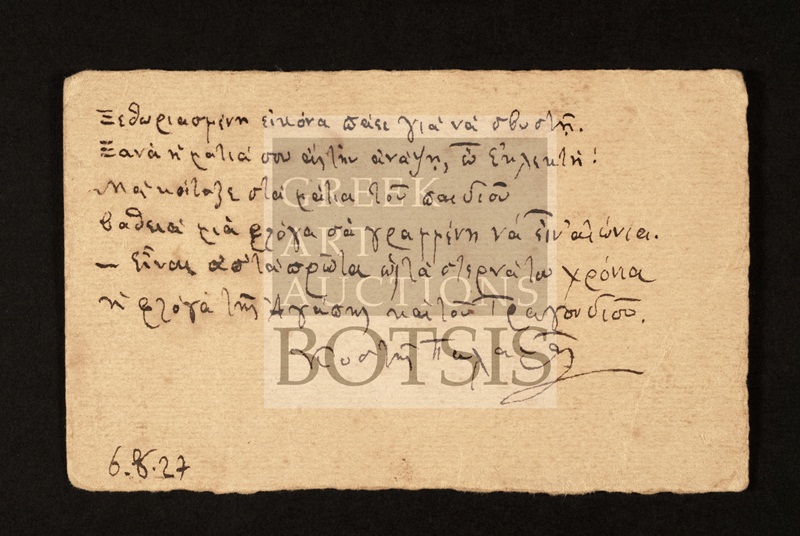 This archive, for the most part, is unpublished.